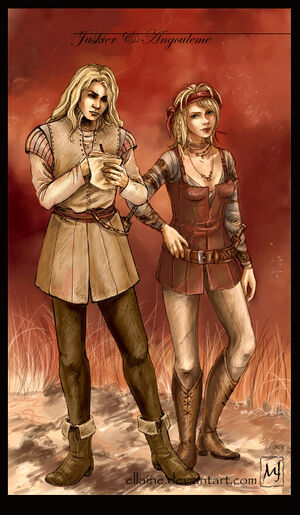 Angoulême was a fair-haired girl who resembled Ciri in many ways. She was from a rich Cintran family. She had the misfortune of being a bastard child and so was sent to live with relatives far from her own home. She ultimately renounced her family altogether and set out to make a life for herself. Eventually, she became a member of the Nightingale gang.
Although she had left the gang, stealing from Homer Straggen on her way out, she was captured by agents of Fulko Artevelde, a Nilfgaardian governor and condemned to death. As a partial reprieve, she was offered a quick death if she agreed to become a crown witness in the investigation into the Nightingale gang. She cooperated with Fulko and through him, met Geralt who had also been pulled in for questioning.
Fulko needed the witcher and his companions to hunt down and eradicate the Nightingales. Reluctantly, the witcher agreed but demanded that Angoulême be released into his custody as a condition for his cooperation. Angoulême then joined the witcher's company in their search for Ciri.
She was quite fond of using rather salty language and persisted in derisively calling most of the men she encountered "uncle". She also had a habit of calling Milva "auntie", which infuriated the archer.
She was seen using a dagger and a saber with a degree of competence, and was also seen using a throwing axe.
While Geralt and this companions wintered in Toussaint, Angoulême decided that once the group had found Ciri, she would open her own bordello, a high-class establishment.
She died from blood loss due to a spear wound in her thigh which she sustained defending Ciri during the Assault on Stygga castle.
Gallery
[
]
Notes
[
]
In the real world, "Angoulême" is a commune in southwestern France. It is the capital of the Charente department, in Poitou-Charentes. Angoulême is mostly known for its Angoulême International Comics Festival (Festival International de la Bande-dessinée), which receives nearly 200,000 visitors each year.
Her mother's family's coat of arms is described as a "sea-cat". Sea cat (Meerkatze) was a name given by medieval German and Polish sailors to species of monkeys known as guenon. Sailors used to domesticate these monkeys for fun. However, in the 16th century Polish heraldists were no longer aware about the origin of this coat of arms and started to depict the animal as actual cat. Andrzej Sapkowski does describe the sea cat as a guenon in his bestiary (in Manuscript Discovered in a Dragon's Cave), so the depiction above is incorrect. Until I make a better one.