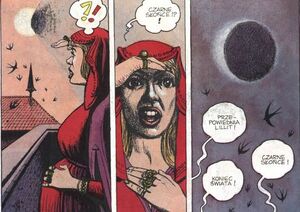 Black Sun in a reference to a certain eclipse, better known in the context of the Curse of the Black Sun, or Mania of Mad Eltibald. It was a prophecy made by the mage Eltibald that foretold the end of the human civilization in the hands of sixty girls born during or after a certain eclipse. It features in the short story The Lesser Evil where Geralt and the wizard Stregobor have differing opinions of it.
"
"Have you ever heard of the curse of the Black Sun?"
"But of course. Except that it was called the Mania Of Mad Eltibald after the wizard who started the lark caused dozens of girls from good, even noble, families to be murdered or imprisoned in towers. They were supposed to have been possessed by demons, cursed, contaminated by the Black Sun, because that's what, in your pompous jargon, you call the most ordinary eclipse in the world."
"Elitibald wasn't mad at all. He deciphered the writing on Dauk menhirs, on tombstones in the Wozgor necropolises, and examined the legends and traditions of weretots. All of them spoke of the eclipse in no uncertain terms. The black sun was to announce the imminent return of Lilit, still honoured in the east under the name of Niya, and the extermination of the human race. Lilit's path was to be prepared by "sixty women wearing gold crowns, who would fill the river valleys with blood"."
"Nonsense," said the witcher. "And what's more, it doesn't even rhyme. All decent predictions rhyme. Everyone knows Eltibald and the council of wizards had in mind at the time. You took advantage of a madman's ravings to strengthen your own authority. To break up alliances, ruin marriage allegiances, stir up dynasties. In a word: to tangle the strings of crowned puppets even more."(...)
"
Reaction
Girls said to be afflicted
Supporters
Gallery