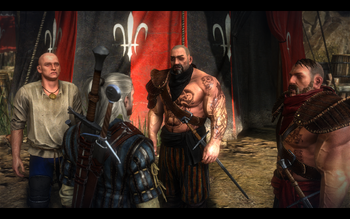 The Crinfrid Reavers are a group of mercenaries hired by king Niedamir to take part in the hunt for a dragon outside Barefield in "The Bounds of Reason", a short story in the Sword of Destiny collection by Andrzej Sapkowski. The group includes:
The Crinfrid Reavers also appeared in the "Smok" episode of The Hexer.
The Crinfrid Reavers make an appearance in the prologue of The Witcher 2. At that point in time, they are without Boholt and have a new recruit, Newboy.
A group of Reavers are encountered in Toussaint, during the quest Mutual of Beauclair's Wild Kingdom.
Video
[
]
Gallery
[
]
Images from the graphic novel, "Granica możliwości":
Gwent card art