Gwent decks: • • • •
Decks 
Card types 
Special cards
Combat row 
Special skills 
Acquisition
Gwent

Gwent game in The Witcher 3
Details

Designer

Damian Monnier

Publisher

CD Projekt

Publication date

May 19th, 2015

Genre(s)

Card game

Language(s)

English, Polish, Russian, German, Italian (and more)

Players

2

Media type

mini-game in the world of The Witcher 3: Wild Hunt, with a physical version available in specified physical edition releases
"
Gwent
is a fast-paced card game that can be played within
The Witcher 3: Wild Hunt
on every platform. Invented by dwarves and perfected over centuries of tavern table play, Gwent is a game of initial simplicity and ultimate depth, something beloved by both road-weary travelers during long nights around the campfire and elegant nobles looking to liven up dragging dinner parties. The game is about the clash of two armies locked in mortal struggle on a battlefield where the players are the leaders and the cards their forces. With [five] different factions offering unique combat styles and endless paths to victory, Gwent is every adventurer's first choice when it comes to one-on-one card-based dueling. Take risks and think on your feet, strategize and deliver cunning combos, use potent magic and mighty hero cards and be the last one standing on the field of honor!
"
See also
On June 15, 2016 CDProject announced the development of a stand-alone Gwent: The Witcher Card Game. GWENT will be available at release for Xbox One, PC and PlayStation 4, GWENT is a free to play game that puts you, not your cards, in the center of the action. [1] Closed beta started in October 2016 for Windows and Xbox One. On May 25, 2017 CDProject announced the start of Public Beta of the game. [2]
Decks
[
]
Gwent is an ancient dwarven game that simulates the clash of two armies in battle. The players are generals, and the cards are their forces. Gwent players use their own customized decks. You can build one deck for each of the five Factions - Nilfgaard, Northern Realms, Monsters, Scoia'tael and Skellige. Each faction features a number of unique cards that encourage a different style of play. Each Faction also has a faction perk:
Gwent Rules
[
]
Creating a deck
[
]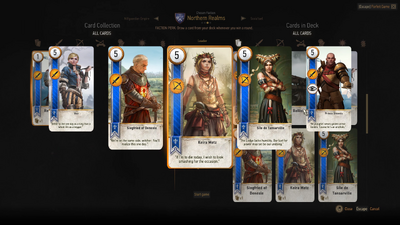 A deck must consist of at least 22 Unit Cards to be played.
There is no upper limit, but doing so reduces the chances of drawing the most powerful cards. However, this is not a general rule, as Monsters and Scoia'Tael decks benefit from a large size due to the prevalence of cards that spawn their duplicates onto the field automatically.
The deck can also contain up to 10 special cards (i.e. spells). Hero cards count as units.
Additional cards can be won from merchants. These are selected at random from a pool of non-hero cards. Unique cards can only be won by following the Gwent quests.
Playing the game
[
]
At the beginning of each round, both players draw ten cards from their decks, on top of their Leader card.
After drawing the cards, you can swap out two cards from your hand - or press Escape to skip this step if you're satisfied with the cards you have. Note that you will not draw any more cards during the game, unless you possess units with the Espionage ability.
The objective is to win two rounds, removing both life gems from the opponent - and preventing them from doing the same. A round is won when your score is higher than your opponent's. A tie will result in both players losing a life gem.
A round ends when both players pass. A player will pass automatically if they run out of cards. Once the round ends and the winner is decided, the battlefield is cleared and the score resets to zero.
There are three types of unit cards in the game: Close Combat, Ranged Combat, and Siege Combat. The fourth are special cards. Special cards are discarded after they're played, while units are placed on the game board in the appropriate row.
Certain unit cards have special abilities, which allow you to draw additional cards, return discarded units to the battlefield, increase the point value (morale) of other cards in the row, destroy enemy units in the opposing row, and more. These can turn around the game - mastering them is essential.
Special cards are essentially spells. Weather cards reduce the strength of ALL cards of a given type on the battlefield, including your own, while others allow you to destroy powerful units or return those on your side of the battlefield to your hand.
Leader cards offer a special ability that can be used once per play. In some cases, this can be vital - on other, it can be used to effectively skip a turn.
Winning the game
[
]
The strategy for winning the game will greatly depend on the deck and your hand. However, there is a number of tricks that stay true regardless of which type of deck you play. The primary one is that you play to outlast the enemy. While winning a round by going all-in looks impressive, if your opponent still has two or three cards left in their hand, you are likely going to lose the next one and then the game.
As such, any action that places cards in your hand is advantageous. Northern Kingdoms and Nilfgaardian Empire decks are built around this concept, with multiple cards with the Espionage ability. While they do add to the enemy score when played, the two additional cards you draw usually compensate for this inconvenience. Monsters and Scoia'Tael decks are more problematic - they have to rely on the opponent playing these cards and then re-using them using the Decoy special card.
Espionage units are best played when the opponent cannot react - such as after they have passed their turn. You also should keep in mind that though the general rule is "the bigger strength of your card the better", in case of espionage units quite the opposite is true. Since it counts for your opponent, the less its strength - the better. So best espionage units have little strength (e.g. Thaler has "just" 1 strength), and the worse ones are huge (e.g. Stefan Skellen has 9). Also when you play espionage cards: either uphold tactics to lose early round (to get more cards to win later) or have at your disposal weather cards that will mitigate their negative influence to one. Of course in this case you should keep the row that you want to deteriorate from your part relatively clean from units.
Medic units are very useful in game, so pick them any time you can. Medics allow you to take back to the field any discarded units. So even if the power of some medic unit is 0 it is often just as useful as the most powerful card in your deck - just be sure to play that card early, so that you could bring it back and play again in second or third round.
Hero cards are powerful assets, as they are immune to all special cards. The drawback is that once you play them, they're gone. Play them early on, to force the opponent to deplete his hand countering them.
The Scorch card targets the most powerful units on the battlefield, regardless of who played them. It's a useful counter to units with the Bond ability, whose strength increases exponentially, or to multiple high strength units with the Brotherhood ability.
Commander's Horn is a "must have" card in your deck. It doubles the strength of all units in any of your rows. If you invested heavily in some row - sometimes that means a definite round win. Just be sure that the opponent don't have weather disablers (including special abilities) or you have a "clear weather" (card/ability) at your disposal.
Weather cards are particularly useful in disabling entire rows - not just to reduce your opponent's score, but to temporarily debuff your own units to protect against the Scorch card. This is particularly useful for the Northern Kingdoms, with their powerful Siege units.
If a unit with a special ability is discarded, then returned to the game, its ability will activate again. The one exception is Brotherhood, which only pulls cards onto the battlefield the first time it's played.
A useful strategy is to allow the opponent to win a single round. Win the first round, play for time in the second, then smash them in the third. Alternatively, play for a tie, then smash them in the second round. Though when playing for the Northern Kingdoms it is often more useful to go "all in" in order to win the first round, because then you'll have one more free card for winning this round (special feature) and then spent all that rest to win the second round and thus the game.
Quests
[
]
Gallery
[
]
For more artworks of Gwent: The Witcher Card Game see Category: Gwent images — card art.
Video
[
]