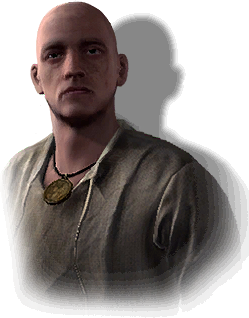 Newboy is a secondary character in The Witcher 2: Assassins of Kings. He is also one of the members of Crinfrid Reavers. As Kennet puts it, Newboy is "apprenticing" with them and since the Reavers have not had much luck with monsters of late, they've enlisted in Foltest's army.
In the Prologue, Geralt learns that Newboy has accepted a wager with a knight that he can survive the assault on La Valette Castle in his shirt and knickers alone due to the protective effect of an amulet of dubious origin. The trio ask Geralt to verify the amulet's power.
Associated Quests
[
]
Grateful for the warning provided earlier, Newboy not only believed that Geralt was innocent, but helped the witcher avoid the guards. And thus honesty had proved to be the best policy - which is true sometimes, at least.
If Geralt refuses to help the Crinfrid Reavers:

This soldier had acquired an allegedly miraculous amulet and truly believed its power would protect him from any and all harm. Geralt did not have the time or patience to discuss the trinket, so Newboy went into battle without his armor, clad only in the faith that he was invulnerable.
If Geralt decides the pendant is useful / refuses to help the Crinfrid Reavers:

Either his faith was too weak or the amulet, even if magical, served a different purpose. Newboy fell during the assault on La Valette Castle.
Video
[
]
Gallery
[
]