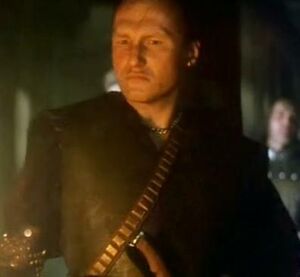 "
"He was balding and his face was disfigured by a scar which ran across his left eyebrow, the bridge of his nose and his right cheek."
"

Nohorn used to be Abergard's adjutant in the Angren Free Company; later he joined Renfri's band, possibly together with Fifteen. He features in the short story The Lesser Evil.
Norhorn also appeared in the graphic novel "Mniejsze zło" (The Lesser Evil).
Gallery