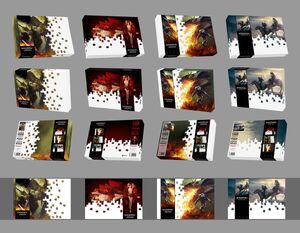 The jigsaw Puzzles belong to the CD Projekt video game continuity. Each box consists of 1500 pieces, the puzzle theme has a size of 85 x 58 cm. There is also a poster of the same size as the cover theme included in the box.

Expansion required
This article is too short to provide more than rudimentary information about the subject. You can help Witcher Wiki by
expanding it.
Themes
[
]
A new limited edition version was shown at Gamescom 2013 in Cologne (21th to 24 August 2013), with the "new" Geralt of The Witcher 3: Wild Hunt.
second edition with three motives from December 2014 of The Witcher 2 and The Witcher 3:

Geralt (TW3)
Generals (ori. Generalowi, TW3)
Triss (TW2)

the second edition is available in two languages (title print): English "The Witcher 3: Wild Hunt" and Polish "Wiedźmin 3: Dziki Gon"
Distribution
[
]
Gallery
[
]