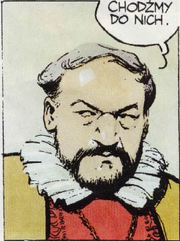 Radovit II the Bold (Polish: Radowit II) was a king who the "Zdrada" graphic novel.
In the Zdrada comic

[

]
Radovit was bankrolled the functioning witcher schools of Cat and Wolf. Due to the promptings of the representatives of druids and his court counselor, sorcerer named Astrogarus, he organized the ambush. During the tournament which official purpose was to compare skills of witchers of the both schools, Astrogarus ordered Cats to kill Wolves. A moment later Radovit ordered his soldiers to kill all witchers in the arena.
Notes
[
]
Radovit's nationality is unclear. Basing on his appearance and having control over the witcher schools, he is probably ruler of Kaedwen; on the other hand, his name is very similar to Radovid, used by members of Redanian royal dynasty.
Basing on a fact that the comic is adaptation of one of earlier unpublished works of Andrzej Sapkowski, there is also a possibility that the story was written before "invention" of Kaedwen and Kaer Morhen had to be located somewhere else - one of scenes can suggest it is relatively close to the Mayena circle (it should be noted that localization of Mayena also wasn't specified until Baptism of Fire). King Radovit's traits could be later given to other monarchs, like Henselt.

It is also not sure if the Massacre at Kaer Morhen existed at the time and if so, whether it took place before or after the events presented in the comic.
Gallery
[
]
Kaedweni monarchs

| | |
| --- | --- |
| Other members of the royal family | |
References
[
]