For The Witcher 3: Wild Hunt (in addition to replacing the Vigor attribute from the previous game), Stamina determines running endurance and special combat ability use. Once your Stamina is depleted, you won't be able to sprint until it regenerates.
Certain actions require Stamina in order to be performed. If your Stamina level is not sufficient, you won't be able to perform that action.
The amount of Stamina used differs from action to action.
Stamina regenerates automatically. If you don't have enough to perform a particular action, wait for it to regenerate.
There are various ways available to you in the game to increase the rate at which your Stamina regenerates. By making use of these, you will be able to perform powerful actions more often.
Stamina boosters
[
]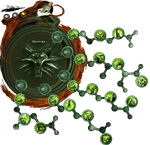 Stamina is an attribute that governs sign-casting endurance and resistances in The Witcher computer game.
The Stamina attribute governs not only physical stamina, but is also related to Endurance and group style swordsmanship. There are five basic levels, each with a selection of attributes. The full Stamina attribute tree can be found here or by clicking on the tree icon to the right.
Level One

[

]
| | | |
| --- | --- | --- |
| Stamina (level 1) | | Mutation |
Level Two

[

]
| | | | |
| --- | --- | --- | --- |
| Stamina (level 2) | | Poison Resistance | Endurance Regeneration |
Level Three

[

]

Stamina (level 3)


Endurance Regeneration


Pain Resistance


Revive

Duration of Stun effect caused by assailant − 50%
Level Four

[

]
| | | | |
| --- | --- | --- | --- |
| Stamina (level 4) | Stun Resistance | | |
Level Five

[

]
| | | |
| --- | --- | --- |
| Stamina (level 5) | | |