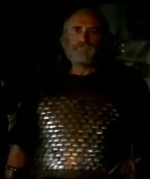 "
"… a stocky, weatherbeaten man with a plait…"
"

Tavik is a member of Renfri's band. He saw Geralt when the witcher was discussing the kikimore with Caldemeyn in the short story "The Lesser Evil".

Tavik also appeared in the graphic novel "Mniejsze zło" (The Lesser Evil).
Played by Janusz Rymkiewicz in The Hexer.
Episodes
[
]

Expansion required
This article is too short to provide more than rudimentary information about the subject. You can help Witcher Wiki by
expanding it.