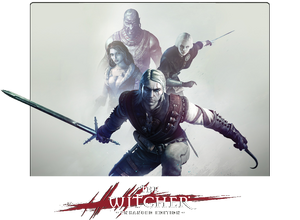 The Witcher: Enhanced Edition was released on September 16, 2008. It contains a number new features and technical upgrades for The Witcher computer game. It was first announced by CD Projekt RED at the 2008 Game Developers Conference in San Francisco.
The game updates, as well as the box extras, are available as a download free of charge for owners of the original version who have registered their game on the official forum. The downloadable update itself is made up of four files:
the upgrade itself (909 MB)
the language pack (457 MB for the English pack)
one file for each of the two premium modules (330 MB and 287 MB).
Features
[
]
The significant changes featured in the enhanced version are over 200 new animations, additional NPC models and recolouring of generic NPC models as well as monsters, vastly expanded and corrected dialogues in translated versions, improved stability, and load times reduced by roughly 80%. In addition all bugs are said to be fixed and the game manual completely overhauled. A new option is to mix and match 8 different languages of voice and subtitles. For instance, players can now choose to play the game with Polish voices and English subtitles.
The Witcher: Enhanced Edition also contains a completely new and enhanced version the D'jinni Adventure Editor and two new official fully-voiced adventures: "The Price of Neutrality" and "Side Effects".
In addition to the game enhancements, the boxed edition of The Witcher: Enhanced Edition contains a "making of" DVD, a CD with 29 official in-game music tracks and the official game strategy guide. The non-North American version also included a second CD with music "Inspired by" The Witcher, a bound copy of the short story "The Witcher" by Andrzej Sapkowski from the book The Last Wish, a map of Temeria printed on high quality paper, an overhauled game manual, and the official game strategy guide.
International Packaging
[
]
North American Packaging
[
]
Gallery
[
]
Drafts of the "Enhanced Edition" which were dropped in favour of the final version.