| | |
| --- | --- |
| | This article is about the comics or graphic novels. For other uses of The Witcher, see The Witcher. |
There have been three series of comic books based on Andrzej Sapkowski's The Witcher series. A series published in Poland between 1993 and 1995, a 2011 miniseries published by Egmont, and the currently ongoing series published by Dark Horse Comics, started in 2014. The latter two series are part of CD Projekt's The Witcher franchise.
Parowski/Polch series
[
]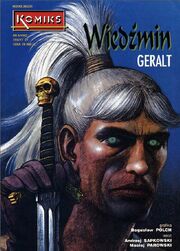 A 6-issue series of The Witcher (Polish: Wiedźmin) comic books based on Andrzej Sapkowski's short stories was published in Poland in the years 1993-1995 by Prószyński i S-ka, written by Maciej Parowski and illustrated by Bogusław Polch.
Original edition=
[
]
The original issues were (in the order of publication):
Hardcover edition (2001)
[
]
In 2001, the graphic novels were collected in 2 hardcover volumes, in the order of internal chronology:
Volume 1:
Droga bez powrotu
Zdrada
Geralt
Volume 2:
Mniejsze zło
Ostatnie życzenie
Granica możliwości
Trade paperback edition (2015)
[
]
Wiedźmin. Wydanie kolekcjonerskie[1]
special collector's edition
contains all 6 issues of the Wiedźmin comics by Parowski/Sapkowski/Polch
additional two further SF comic stories by Polch: "Funky Koval" and "Ekspedycja" (expedition)
published: 17th November 2015

format: 220 mm x 296 mm

pages: 312

trade paperback.
Canceled sequel
[
]
A follow-up series covering the events of Sapkowski's novels was announced in 2005, and was to be again written by Maciej Parowski and illustrated originally by Przemysław Truściński (who also created concept art for The Witcher computer game), and later by Marek Oleksicki. This series was canceled in 2010, although several pages from both the Truściński and Oleksicki versions have been released online.
CD Projekt franchise
[
]
Since 2011, new Witcher comics are being released as part of CD Projekt's The Witcher franchise. The depiction of Geralt and other characters in these comics is based on The Witcher 2: Assassins of Kings and The Witcher 3: Wild Hunt video games and they are authorized by CD Projekt. They are not in any way related to the previous Polch/Parowski series.
Egmont series
[
]
A short comic book miniseries, not based on any of the novels or short stories but containing new adventures of Geralt, was released in 2011 by Egmont. It was written by Michał Gałek, illustrated by Arkadiusz Klimek and colorized by Łukasz Poller. Only one two-issue story was published:
While this was their only original Witcher comic, as of 2014 Egmont publishes the Dark Horse Comics series in Poland.
Dark Horse series
[
]
A new series of comic books, written by Paul Tobin and illustrated by Joe Querio and published by Dark Horse Comics, started in March 2014. While the first storyline, House of Glass, is an original story, the second one, Fox Children, is an adaptation of one of the chapters of Andrzej Sapkowski's Season of Storms novel.
Standalone comics
[
]
A special comic issue was available only for preorders of The Witcher 3: Wild Hunt - Collector's Edition in some regions. Judging from what the title says it contains a story based on the Killing Monsters trailer.
Comic strips
[
]
With April 8th 2016 CD Projekt RED has started a new comics mini series on their Facebook site with comic strips, written by CDPR team and drawn by Polapaz-IsisT.
Gallery
[
]
References
[
]