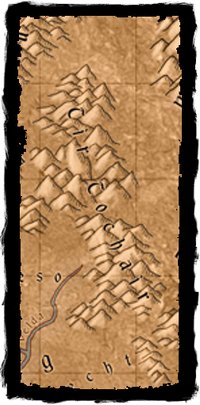 Tir Tochair forms the eastern border of Nazair, Metinna, Ebbing and Maecht. Farther east and north are the Fiery Mountains.
Notable areas
[
]
Notes
[
]
This name also derives from Irish (Gaelic).
tír means Land, Country, Territory
While Tóchair/Tóchar might be translated with causeway, path [1] or probably dyke (?).
↑ There also is an irish series on BBC Two Northern Ireland called "Tóchair an tSaoil", with the english name of "Paths of Life".