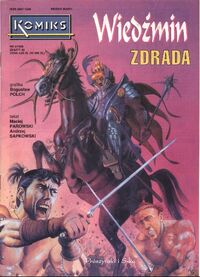 "Zdrada" (The Betrayal) is the 6th published The Witcher comic book (after "Granica możliwości") and the 2nd one in the order of internal chronology (after "Droga bez powrotu" and before "Geralt"), written by Maciej Parowski and illustrated by Bogusław Polch.
It is the only one of the Parowski/Polch series of comics not based on a short story by Andrzej Sapkowski, being based instead on a basic idea by Sapkowski, expanded by Parowski and Polch. It is set during Geralt's youth and his witcher training, and tells of the betrayal by the Cat School of witchers that led to a massacre during a witcher school exam.
Characters
[
]
Notes
[
]
There is no official English translation but you can find a non official English translation here.
During the convention Dni Fantastyki 2014, Andrzej Sapkowski agreed that his last novel, Season of storms, contains references to events described into the comic Zdrada.
The events into the comic are not precisely localised on the Continent. The king Radovit II the Bold is not the same king as Radovid III the Bold, ruler of Redania and ancestor of Radovid V the Stern.